This is the fourth installment of a story chronicling my travels in 1994 as a college student. The six-month journey took me to 20 countries in Europe and Asia.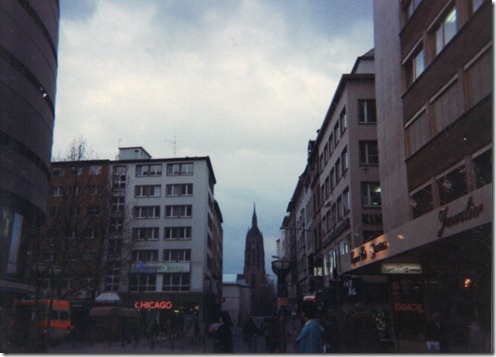 Thomas and Francisco, two acquaintances I met after I arrived in Frankfurt, Germany, waited for me to respond to their offer to help carry my bags to the lockers in the main train station. I was unsure of their intentions and wondered how I could bid adieu without creating a scene. I suspected that they had ulterior motives, perhaps to relieve me of my wallet or other belongings, but I couldn't dismiss the possibility that they genuinely wanted to help. What a mess I'd gotten myself into just hours after arriving in Europe! I hoped my brief stay in Frankfurt would not devolve further into a comedy or tragedy.
"Really, guys, I can take it from here," I told them. "I really appreciate your help. If there's anything I can ever do to thank you…"
Francisco held up his hand without a hint of malice and stopped me in mid-sentence. "Say no more, my friend. We're happy to help."
Thomas nodded, smiling. It dawned on me that the two were merely being helpful. I pursed my lips and chastised myself for being too mistrustful. Francisco held out his hand and shook mine. He said, "We wish you all the best with your travels, Michael. Take care of yourself. See you later."
"Thank you very much," I said, feeling a bit sheepish. "'Bye…I mean, auf Wiedersehen."
"Bye, Michael," Francisco and Thomas said. They waved and disappeared from my life. I realized then that meeting strangers was one of the more fulfilling aspects of traveling abroad and that it was best not to assume the worst in a person at first meeting. Had it not been for their assistance, I might never have been able to square away my belongings. Instead, I might have spent time in a police station reporting some lost or stolen items. Francisco and Thomas were the greeters in Frankfurt that I expected all along.
I gathered my two suitcases, duffel bag, and shoulder bag and shoved the pile toward the locker room at the opposite end of the terminal. I moved them in stages, thinking each time I went back for an orphaned bag that I had a long trip ahead of me to Graz, Austria. I rented the largest locker available and stuffed the three large pieces into it and kept my shoulder bag to use as my daypack. I still carried my travel documents and wallet in my fanny pack, an accessory that I did not realize at the time was a great target for thieves who would rather have stolen small valuables than unwieldy suitcases.
Unfettered, I was all set to spend the rest of the day touring Frankfurt, but I wasn't in the mood to see it. My ordeal from the airport to the train station soured my disposition. I still had more than three hours before my scheduled departure and did not want to linger at the station, so I headed to the city center for my first taste of Europe. I was not impressed. Despite being a major European city and the financial hub of one of the world's largest economies, Frankfurt was a forgettable urban metropolis with a dearth of landmarks. Allied bombing during World War II destroyed the city, and most rebuilt modern architecture was rather bland. Die Römer, Frankfurt's city hall, and the Opernhaus (opera house), were beautiful but nondescript gems hidden amid the high rises. Apart from street signs and billboards written in German, I saw few signs of Germanic influence.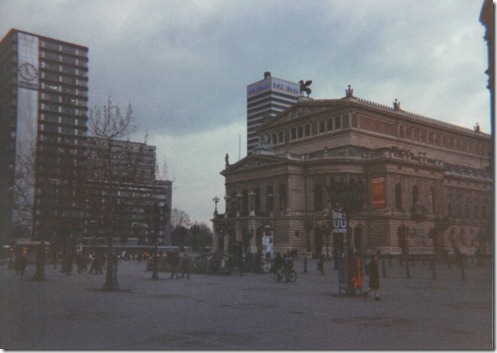 I missed home, my family and my girlfriend. I had no way to contact them with nary a phone card or a cell phone, which would not become an indispensable, disposable travel item for another decade. I told my family that I would contact them in a few days after I arrived in Graz and had no idea what I would have done if I got into trouble. With no travel insurance and on a limited budget, I needed to travel with care.
I sought comfort in the refuge of an American fast-food chain and ordered a hamburger, a dish that ironically originated in Germany but was as far from German cuisine as I could imagine. The burger tasted no better than it had in the United States, and while I thought it was a cheaper option than eating at a local restaurant, the meal cost more than I had budgeted. Leaving the restaurant, I went outside into the cold February afternoon and inadvertently stepped into some wet dog excrement waiting for me on Römerstraße (Römer Street). I rolled my eyes and growled with clenched teeth, "Crap, can anything else go wrong today?"
Scraping the feces from the bottom of my shoe with some tissue, I regretted my words for fear of jinxing myself. The day was far from over; there was still plenty of time for more things to go wrong. Jetlagged, frustrated, and dissatisfied by the bad meal that started to turn in my stomach, I opted to head back to the train station to wait for my departure. The last thing I wanted to do was miss my connection and find myself stranded in Frankfurt. So much misfortune had befallen me in Frankfurt that I was sure that fate would intervene again. As I sat in a subway car hurling back to the train station, staring out the window at the fuzzy emergency lights passing by me in the dark tunnel, I moped and hoped that the situation would get better.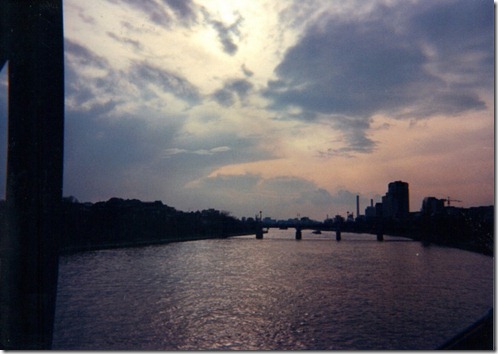 Previous installments of "Eurasia: A Poor Student's Trek through Europe and Asia":
3. Adventures in Frankfurt (Part One)
M.G. Edwards is a writer of books and stories in the mystery, thriller and science fiction-fantasy genres. He also writes travel adventures. He recently published a collection of short stories called Real Dreams: Thirty Years of Short Stories available as an ebook and in print on Amazon.com. His upcoming travel novel, Kilimanjaro: One Man's Quest to Go Over the Hill, will be available in March 2012. He lives in Bangkok, Thailand with his wife Jing and son Alex. Visit his web site at www.mgedwards.com or contact him at me@mgedwards.com. Find him on Facebook or @m_g_edwards on Twitter.
© 2012 Brilliance Press. All rights reserved. No part of this work may be reproduced or transmitted without the written consent of the author.