When my family and I visited the Amazon River Basin in 2008, we were struck by the immense greenness that enveloped us. The serpentine network of rivers known as the Amazon cut through the rainforest, delivering life-sustaining water to thirsty foliage. We stayed several days at a beautiful resort accessible only by boat on one tributary of the river, far removed from the hustle and bustle of the urban jungle.
Exploring the surrounding rainforest on foot and by boat, we visited a monkey sanctuary, met indigenous villagers, fished for piranha, took a walking tour through the dense forest, and went on a day river cruise to see the confluence of the black and brown branches of the Amazon as well as on a night cruise to spot nocturnal wildlife.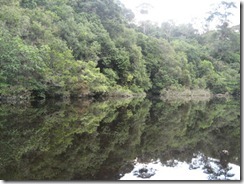 Spending time with my son Alex, who marveled at a new world he had never seen before in his young life, inspired me to capture our experience in a story that brings the rainforest to life for children like him. "Alexander the Salamander" is an illustrated children's story about a salamander named Alexander who moves to a new home in the Amazon and meets new friends who take him on an unforgettable adventure. It is a reflection of our own Amazon experience that I hope young children will enjoy and find educational.
Alex co-authored the book and drew the illustrations. The photos were taken by my wife Jing and me. If you would like to purchase a copy in Kindle's e-book format, click here.  To read other books and stories by M.G. Edwards, visit www.mgedwards.com.