Now On Sale!
KILIMANJARO: ONE MAN'S QUEST TO GO OVER THE HILL
A World Adventurers Book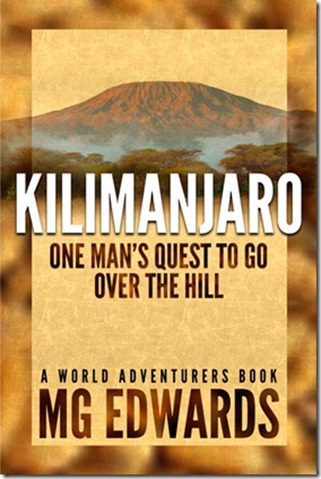 E-book Available for only US$3.99 at:
Now Available in Print for US$9.99 at:
Synopsis:
The first book in the World Adventurers Series, Kilimanjaro: One Man's Quest to Go Over the Hill chronicles the author's attempt to summit Mount Kilimanjaro, the highest mountain in Africa. At forty years old and on the verge of a midlife crisis, he tried to change his life by climbing a mountain. This is his true story of facing Kilimanjaro and other challenges at middle age.
This book is for anyone who feels over the hill and needs encouragement to make a life change in the face of difficult odds. It's also for the casual climber or hiker who is interested in climbing one of the world's tallest mountains. Filled with insights and advice for those who are contemplating their own Kilimanjaro climb, this book will put you on the mountain and inspire you to go over it.
Click here to read a short excerpt from the book. A longer excerpt is available to read on Scribd.
Kilimanjaro includes more than 60 photos from the author's trek. Here are some of the photos featured in the book.
M.G. Edwards is a writer of books and stories in the mystery, thriller and science fiction-fantasy genres. He also writes travel adventures. He is author of Kilimanjaro: One Man's Quest to Go Over the Hill, a non-fiction account of his attempt to summit Mount Kilimanjaro, Africa's highest mountain. His collection of short stories called Real Dreams: Thirty Years of Short Stories available as an e-book and in print on Amazon.com. He lives in Bangkok, Thailand with his wife Jing and son Alex.
For more books or stories by M.G. Edwards, visit his web site at www.mgedwards.com or his blog, World Adventurers. Contact him at me@mgedwards.com, on Facebook, on Google+, or @m_g_edwards on Twitter.
© 2012 Brilliance Press. All rights reserved. No part of this work may be reproduced or transmitted without the written consent of the author.