Please enjoy this preview from my book Kilimanjaro: One Man's Quest to Go Over the Hill now available to purchase as an e-book, and in print on or before April 5. The first book in the World Adventurers Series, Kilimanjaro chronicles my attempt to summit Mount Kilimanjaro, the highest mountain in Africa. At forty years old and on the verge of a midlife crisis, I tried to change my life by climbing a mountain. This is my story of facing Kilimanjaro and other challenges at middle age.
Facing My Mountains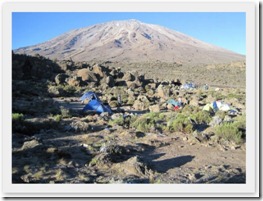 I sat in the medical clinic desperate for a quick cure of my ailment. I was days away from departing for the climb of my life, and I felt miserable. I was in questionable condition to attempt to summit Mount Kilimanjaro, Africa's tallest mountain. My chest was tight, and I had trouble drawing deep breaths. My nose was stuffed up, and I was nauseated. I had no idea what I had. I fought my undiagnosed respiratory problem with a variety of inhalers, antibiotics and other medications, but nothing brought me back to health. Everything from a severe flu to tuberculosis crossed my mind, but the medics eliminated more possibilities with each visit to the clinic. As I sat in her office, the nurse suggested that I had severe allergies. She asked, "Are you sure you want to do the climb? You might have a difficult time breathing. Things may get worse the higher you go."
I thought through my response. I could not make it to the top of Kilimanjaro if I couldn't breathe. My mind told me to defer my climb until I felt better, but my heart refused. I pushed aside my misgivings and decided to go ahead with it. I felt better than I had the previous week, I reasoned, and would be recovered enough to climb before I traveled. After a brief pause, I told her, "Yes, I do. I'm feeling much better. Really."
She looked skeptical but could see that I was determined to go ahead with my adventure. "Okay, then take a combination of the inhalers, and use this one if you feel tightness in your chest. If your condition gets any worse before you go, call me right away."
"I will," I said. I was relieved that I had the remedy I needed to get through my respiratory problem. I did not want to attempt Mount Kilimanjaro without some reassurance that I could handle the high altitude, low oxygen levels, and strenuous trek to 5,895 meters (19,341 feet) above sea level in my current condition. With one week left before the biggest challenge of my life, my mind was the only part of my body prepared for it. I left the clinic with inhalers and medications in hand, debating whether to climb. One by one, I dismissed my reservations with each footfall on the pavement.
I had never been seriously ill until I moved in 2009 to Zambia, a country in southern Africa with its fair share of pandemics, from malaria to cholera. Soon after I arrived at my new home in Lusaka, I developed severe allergies and high blood pressure, and put on a lot of weight. My health deteriorated precipitously, sapping my strength.
My wife, Jing, who was always my voice of reason, cautioned me not to attempt Kilimanjaro if I wasn't ready for it. Several times she asked me with concern in her voice, "Are you sure you want to do it when you're sick?"
"Yes, I'm sure," I answered her every time. "I need to do it…for me."
"Then why not postpone your trip?" she asked. Jing had reason to be worried. She summited Mount Kilimanjaro the year before and knew how difficult it was. Her suggestion was logical, but I had already invested too much in this climb. The trip had been months in planning, and I had gone to great lengths to get in shape for it in spite of my respiratory issues. After a brief pause, I said, "No, I can't, hon. I need to get better and climb this mountain."
She shook her head. "Okay, but think about it."
The future weighed on my mind. Approaching middle age, I was overweight and out of shape, living a sedentary lifestyle, and stuck in a rut. A series of personal setbacks left me a bitter man. Every time I was convinced life would get better, another letdown hit me. A midlife crisis, something that just a few years ago I never thought possible, was brewing.
After Jing returned from Kilimanjaro, I decided that I needed to do it too. A physical challenge greater than any I had ever faced, climbing Africa's highest peak was just what I needed to jumpstart my life at middle age. I was certain it would test my mettle and prepare me for whatever obstacles the future threw at me. Making it over this mountain would help me get over the hill.
Kilimanjaro: One Man's Quest to Go Over the Hill is now available to purchase as an e-book on March 31, 2012, and will be released in print on or before April 5. Now available to purchase at:
M.G. Edwards is a writer of books and stories in the mystery, thriller and science fiction-fantasy genres. He also writes travel adventures. He is author of a collection of short stories called Real Dreams: Thirty Years of Short Stories available as an e-book and in print on Amazon.com. He lives in Bangkok, Thailand with his wife Jing and son Alex.
For more books or stories by M.G. Edwards, visit his web site at www.mgedwards.com or his blog, World Adventurers. Contact him at me@mgedwards.com, on Facebook, on Google+, or @m_g_edwards on Twitter.
© 2012 Brilliance Press. All rights reserved. No part of this work may be reproduced or transmitted without the written consent of the author.