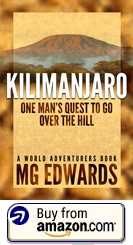 The glaciers of Kilimanjaro are featured in my book Kilimanjaro: One Man's Quest to Go Over the Hill, which chronicles my attempt to summit Mount Kilimanjaro, the highest mountain in Africa. The book is on sale now as an e-book for $3.99 and in paperback for $9.99 from Amazon and other booksellers.
When I attempted to summit Kilimanjaro in 2010, I noticed that it had few glaciers and virtually no ice or snow. I thought this odd for a mountain that rises 5,895 meters (19,341 feet) above sea level — even one located near the Equator. Kilimanjaro often appears in photos capped with pristine white snow. When I climbed, however, it looked more like the photo below — mostly brown with a few glaciers near the summit. I saw the large Northern Icefield and a small glacier to the south but none below the rim of the crater on Kibo Peak pictured in the photo.
Kibo Peak is the tallest of three dormant volcanic cones that cap Mount Kilimanjaro, a massive mountain that covers an area of more than 750 square kilometers in northeastern Tanzania. The other cones, Mawenzi and Shira, have little or no ice or snow.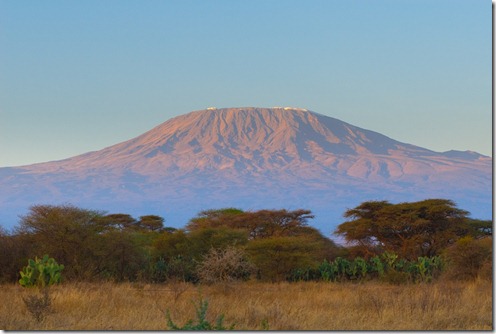 As I gathered research for my book, I came across some photos of Kilimanjaro taken by NASA in 2003 from the International Space Station. The glaciers in these photos were larger than they were when I was on the mountain in 2010. According to NASA, Kilimanjaro's glaciers will disappear completely by the year 2020. Based on my own observations, I think it will happen sooner.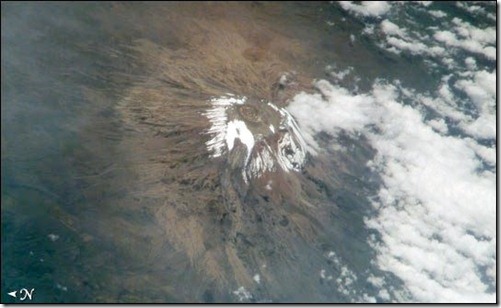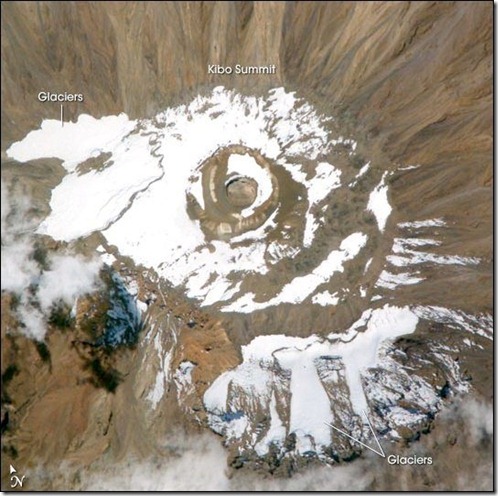 I took the same NASA photo above and identified below the major glaciers on Kilimanjaro to see which ones have melted or still exist.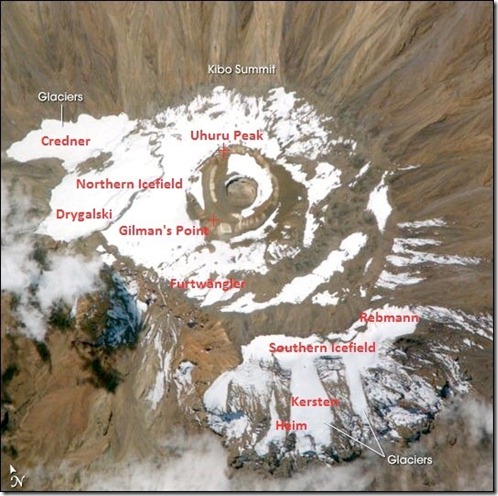 Based on a recent satellite photo taken by the Harris Corporation, most of Kilimanjaro's glaciers, snow and ice have already melted. The Northern Icefield, the largest glacier, was intact, as were some remnants of the Southern Icefield and Heim Glacier. Some of the more famous ones such as Furtwängler Glacier, Rebmann Glacier, and Arrow Glacier are extinct or on the verge of being consigned to history.
Theories abound as to why the glaciers on Mount Kilimanjaro are melting. Some say that it's due to climate change and decreased precipitation caused by global warming; others believe it's a natural occurrence. Some attribute the melting partly to the body heat and footprints made by the thousands of people who climb Kilimanjaro every year. What is certain is that its glaciers are melting, and the beautiful snowcap on Africa's highest mountain is almost history.
Copyright note:  The first photo has been licensed from Shutterstock. Photos taken from the International Space Station are public domain courtesy of NASA. The Bing map is courtesy of Microsoft. All rights reserved.
More About Tanzania and Kilimanjaro
Click on the icons below for more articles about Tanzania and Kilimanjaro
[table]
[/table]