Several of us visited the banks of the Chao Phraya River on October 20 to observe the water levels and assess the flood risk. While the markets under the Rama IV Bridge were (still) open, the floodwaters were lapping against the top steps of the ferry launch, and the river was surging. A broken barrier or rising water levels are all it would take to flood these areas.
Here are photos from the market below Rama IV Bridge on the east side of the river: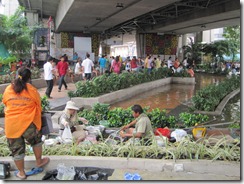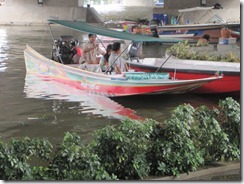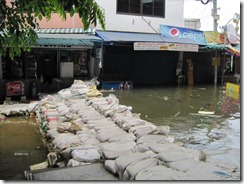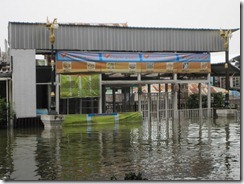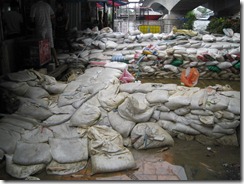 The ferry that crosses the river was still operating, but who knows for how long.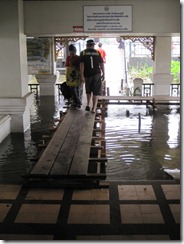 The market under Rama IV Bridge on the west side of the river wasn't so fortunate.  It was soaked by a meter of standing water.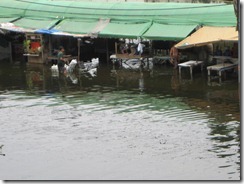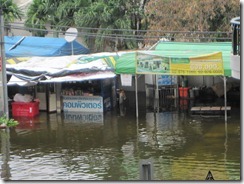 Wat Samanau (Samanau Temple) still dry…for now.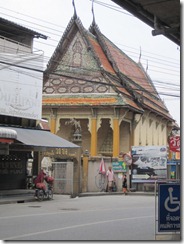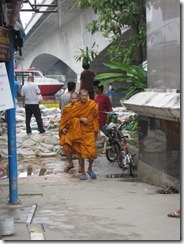 There's always a silver lining in every cloud…it's easy to find a place to take a bath. Don't worry if people are taking photos of you or the water's contaminated. Take a bath while the sun shines!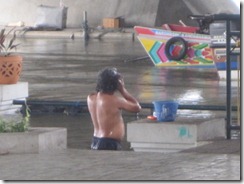 Or, start a floating restaurant! When the going gets rough, just move on to better waters.