The Bangkok Post reported today that floodwater breached a barrier at Khlong Luang (Luang Canal) and swept into Khlong Prapa (Waterworks Canal). What that means in plain English is that the floodwater is now flowing into one of the main canals that flows through Bangkok proper, so the water has breached the city's outer defenses. It's akin to barbarians battering the castle gate after they cross the moat.
Below are photos I took yesterday about noon at Khlong Prapa near Chaengwatthana Road. The water has reportedly risen at least 1.5 meters since then and covered the road. The news reported standing water on Chaengwatthana Road as of this morning, and central Nonthaburi on the northern outskirts of Bangkok is at risk of up to several more meters of flooding. If and when that happens, the rest of Bangkok will be vulnerable.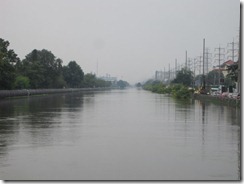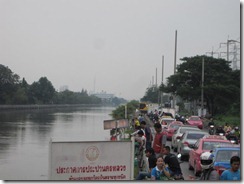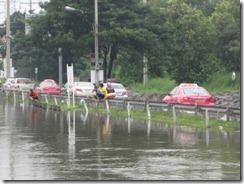 Although the blame game has started with critics pointing fingers at those they believe could have done a better job of controlling the situation, water will go where it wants to go. It wants to go to the sea, Bangkok stands in the way. The government has tried to stem the flow east and west of the city with mixed results; now the flooding is almost everywhere. I'm of the opinion that the flooding of Khlong Prapa was bound to happen sooner or later. The sooner it flows through, the sooner the water will dissipate.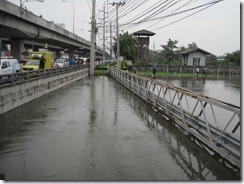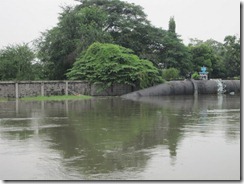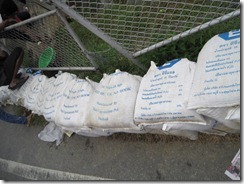 I've been told that it could take a while for the water to disappear. I hope not! If there's standing water on a prolonged basis, none of us will be able to return home anytime soon. I ran into several of my neighbors today in "exile," and we're all in the same boat (pun intentional). We're essentially Internally Displaced Persons (IDPs) at the moment.
There are some positive outcomes from this situation. The swollen waterways are eerily beautiful.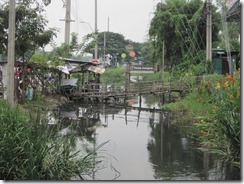 The flora and fauna are getting plenty of water.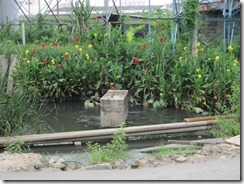 And it's getting easier to catch fish.