The cold seeped into my bones. The heat my body generated while I rode kept me warm; that is, until I reached a straightaway and was hit with a crisp headwind that left me shivering. My derrière was about the only part of my body still dry, and it ached from saddle sores. I could hardly peddle and labored mightily to continue. The road ahead disappeared into a wall of mist. I was numb but kept pedaling, driven by the urge to find Wisdom. I pedaled and pedaled. My eyes wandered to the river meandering next to the highway, one of the few points of interest not shrouded in fog that offered an escape from my predicament.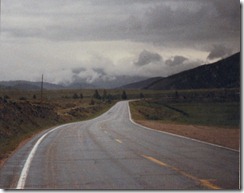 I rode on alone. Not a single car drove by. Only the sound of the babbling river and rain pelting on my saturated windbreaker filled my ears. The rain never stopped, at times pouring down on me in sheets before dissipating into a lighter downpour, then growing heavy again. Water filled my glasses, and I had to clear them with my finger like a makeshift windshield wiper in order to see the road. Water filled my ears, and my finger doubled as a swab.
After a couple more hours, I could no longer ignore fatigue. I chided myself for getting separated from my group. Perseverance, or perhaps stubbornness, had brought me to this point, stranded in the middle of nowhere. My mind resolved to continue even after my body begged to stop. Wisdom couldn't be that far, I reasoned. I am almost there. The town had to be after the next few bends; surely I would be there soon. My body rebelled, but my mind won the argument.
I spotted a green highway mileage sign with neon white letters in the distance. I pushed myself as fast as I could go, sprinting to the sign. If it proved me right, I could ride the last few miles to town and then wait for the others to arrive.
"Wisdom – 14 Miles," the sign taunted me. It crushed my spirit. The distance was almost five times farther than I thought! I gave up and stopped then and there, refusing to go on. I would wait in the rain for someone to find me. I prayed someone would rescue me soon. Heavy rain continued.
At that moment I heard the sound of a car horn. It was the sag wagon! The blue Ford van pulling a large trailer stopped on the shoulder next to me. The driver rolled down his window and yelled to me through the rain, "Hey, why don't you load up your bike? We'll take you to Wisdom."
I couldn't believe it! I was saved. The driver loaded up my bicycle, and I hopped into the warm cab, relieved that my ordeal had come to an end. We drove to town and spent the night. The next day, the rain let up, and we spent two more sunny days finishing the ride to Missoula.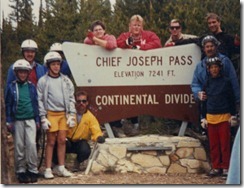 The experience taught me a valuable lesson. I realized that when you find yourself in a difficult situation, and you're ready to give up, draw strength from God. He often saves you from yourself. The road to Wisdom is best taken if you don't try to do it on your own.