M.G. Edwards' debut book, Kilimanjaro: One Man's Quest to Go Over the Hill, has been nominated for the 2012 Global Ebook Award in two categories, Inspirational/Visionary – Non-Fiction and Sports/Fitness/Recreation – Non-Fiction.
Kilimanjaro is a memoir chronicling the author's attempt to summit Mount Kilimanjaro, the highest mountain in Africa. At forty years old and on the verge of a midlife crisis, he tried to change his life by climbing a mountain. This is his true story of facing Kilimanjaro and other challenges at middle age.
Readers rave about Kilimanjaro, calling it "life changing," "inspirational," and "an epic journey of self-discovery." This book is for anyone who feels over the hill and needs encouragement to make a life change in the face of difficult odds. It's also for the casual climber, mountaineer, or hiker who is interested climbing one of the world's tallest mountains. Filled with insights and advice for those who are contemplating their own Kilimanjaro climb, this book will put you on the mountain and inspire you to go over it.
Edwards is a writer of books and stories in the mystery, thriller and science fiction-fantasy genres. He also writes travelogues. A former U.S. diplomat, he served in South Korea, Paraguay, and Zambia before leaving the Foreign Service to write full time. He lives in Bangkok, Thailand with his wife Jing and son Alex.
The Global Ebook Awards honor and bring attention to the future of book publishing:  Ebooks. Now in its second year, the Awards are given in 72 specific categories. They are open to all publishers. Each winner is chosen as best in its category rather than based on size or region. Submissions are judged by a panel of 250 judges who are experts in the categories and genres of the books nominated. The awards ceremony will be held in Santa Barbara, California on August 18, 2012. For more information, visit http://globalebookawards.com.
Kilimanjaro: One Man's Quest to Go Over the Hill is available to purchase as an ebook from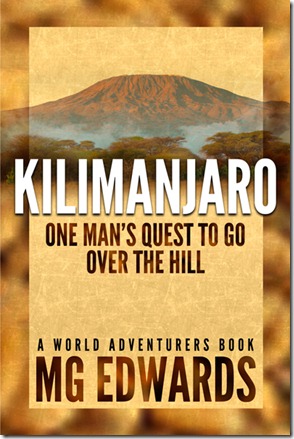 these booksellers:
Kilimanjaro is available in print at these booksellers:
For more information about the book or M.G. Edwards, visit www.mgedwards.com or worldadventurers.wordpress.com. Contact him at me@mgedwards.com, on Facebook at www.facebook.com/migedwards/, or @m_g_edwards on Twitter.