October 18, 2011
8 a.m. Local Time
Bangkok, Thailand
The Bangkok Post reported that the floodwaters from the Chao Phraya River have reached Sai Mai district less than 20 kilometers from here. Local authorities have advised that although the situation has worsened in the last 48 hours, we are still safe from flooding because we are in a protected area. A large number of government buildings are in the area, and keeping the floods at bay is a priority.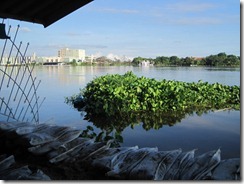 According to the Post, Sai Mai, which is a couple kilometers from Don Mueang (domestic) Airport, is a strategic battleground. Failure to hold the line puts even more of Bangkok at risk. The flooding has so far moved in waves and covered entire sections of the country with amazing speed. Local residents and work crews are working hard to shore up barriers with dirt and sandbags in order to funnel the floodwaters to the sea, but it's not clear that their heroic efforts will be enough.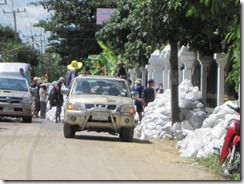 This seems to be turning into a battle of all or nothing.  Either the defenses hold and the crisis subsides, or soon we will all be underwater.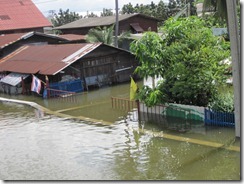 Update 7:30 p.m. Local Time
The neighborhood has taken precautions to halt the water if it reaches here. Some streets have been shut down and barricaded with sandbag barriers. Dirt berms have been built over some roads to stop the water from going further. School has been canceled through the end of next week's school break. We've been informed of a hotel where we can find shelter if need be. The water feels closer.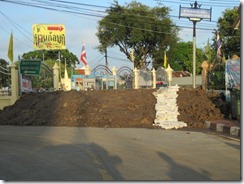 Tomorrow some of us will go out as far as we can safely to survey the situation. I'll report back on whatever I find.