Dear Reader, here is an article my wife and I wrote for our weekly newsletter on our trip to Rio de Janeiro, Brazil.  I thought I would share it with you since I haven't blogged about the trip yet.  Enjoy!
If you are looking for a great great getaway, then consider visiting Rio de Janeiro, Brazil.  Our family vacationed there for four days in July.  We highly recommend it as a great diversion.
Rio is a city with stunning views.  Flanked to the north by the Bay of Guanabara and to the south by the Atlantic Ocean, Rio winds its way through valleys surrounded spectacularly jagged granite peaks and gorgeous sandy beaches.  We visited two of the city's "must-sees" attractions, the Christ the Redeemer Statue, one of the new Seven Wonders of the World, and Sugarloaf Mountain.  We relaxed in Copacabana and dined in Ipanema, two of the city's famous beachfront neighborhoods, and squeezed in a city center tour and shopping.  Even though we doubted whether Christ the Redeemer Statue should have been included among the new Seven Wonders of the World, we left convinced that it is truly a wonder.  The statue, together with unbelievably beautiful and sensuous landscape that it overlooks, is impressive.  Sugarloaf Mountain, a granite peak rising dramatically above Guanabara Bay, offers some of the best views of the city, including Christ the Redeemer.  The mountain is easily accessible by cable car.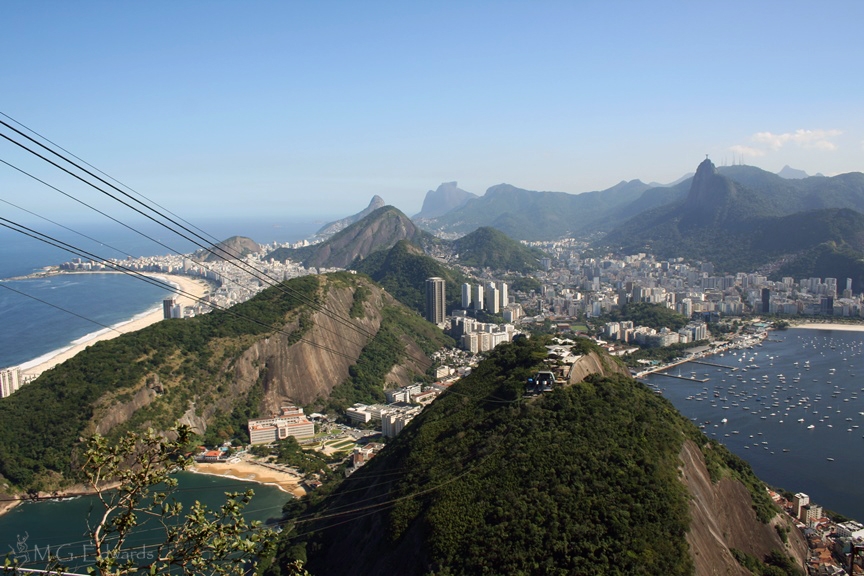 Rio's city center is dated but worth a half-day tour.  The former Imperial Palace of Brazil's Portuguese monarchy offers a great jumping-off point to explore the cathedrals and colonial-era buildings that dot the city center.  The center is also home to the ultra-modern Rio de Janeiro Cathedral and the Arcos da Lapa, a defunct Romanesque aqueduct.  Negotiate your day-trip with a hotel-referred taxi driver who can suggest some good sites to see.  Although not touristy, the city center offers a window into the everyday lives of Cariocas (Rio's residents) past and present.
If you visit Rio, consider staying in Copacabana, where your hotel will likely be across the street from the beach.  While Copacabana may not conjure images of the New York club of the same name popularized by crooner Barry Manilow – we saw just one nightclub on the strip – it's still fun.  Visitors can entertain themselves for days on end riding the waves, sunbathing, playing beach games, or just people-watching.  Or one can chat it up with vendors who buzz around and peddle kitschy knickknacks and fake fashion.  Although livelier during Carnival, Rio's beaches offer an eclectic mix of visitors and locals year round.
While Rio is a world-class tourist destination, security was our top concern during our visit.  As a result, we avoided nighttime excursions except for visiting the tourist market on Atlantic Avenue in Copacabana.  We only used taxis recommended to us by our travel agency or hotel.  Negotiate a price before accepting a taxi ride.  Don't wear jewelry or flash cash.  Stay in crowded, touristy areas.  With the weak dollar, Brazil is not a cheap place to visit.  Plan to spend three times what you would in Asuncion for identical items.  Still, unforgettable moments in Rio could make your trip well worth it.
[table id=11 /]
[table id=9 /]
[table id=8 /]