My family and I paid a visit on September 25 to Sao Ching Cha, also known as the Giant Swing.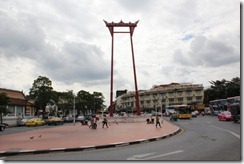 The free-standing structure stands in front of Wat Suthat temple in the middle of a busy traffic circle on Bamrung Muang Road in central Bangkok. Built from tall teak wood beams with an ornate wooden crown on top, it stands more than 30 meters high (almost 100 feet) and looks like an inverted goalpost.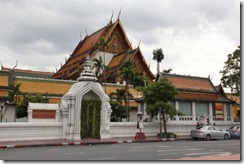 Sources indicate that the original Giant Swing built in 1784 by King Rama I was used to celebrate the year's rice harvest, to thank the Hindu god Shiva for a bountiful crop, and to ask for his blessing on the next one. The Swing is based on a Hindu epic that tells the story of Shiva's descent to the Earth; its pillars symbolize mountains, and its base depicts the Earth and the seas.
During an event known as the Swing Ceremony (Triyampawai), Brahmins would swing on a platform suspended between the pillars of the Giant Swing and try to catch a bag of silver coins dangling from the Swing with their teeth. The ceremony, performed during the reigns of King Rama I and Rama II and again from 1920 until the early 1930s, was discontinued after several fatalities occurred. The swing was renovated in 1920 and 1959; its most recent incarnation was dedicated in September 2007.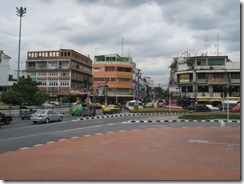 On our way to the Swing, we walked from Wat Saket (also known as the Golden Mount) about 1.5 kilometers along Bamrung Muang Road in the Banglamphu neighborhood of Bangkok. One of the city's oldest neighborhoods, Banglamphu has some charming and historic buildings. Unfortunately, the area where we walked was gritty, chaotic, and forgettable.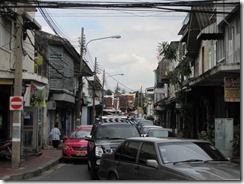 Another 1.5 kilometers on the same road takes you to the Grand Palace and Wat Pho, two of Bangkok's most prominent and popular sites. We decided to cut our journey short at the Giant Swing in midafternoon and to save the palace and temple for another day. The hot, muggy day had left us exhausted and tired of touring.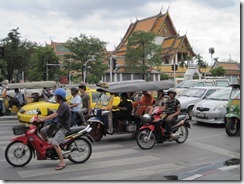 What should be a pedestrian-friendly thoroughfare that links major attractions, Bamrung Muang Road is actually an exercise in accident avoidance for tourists who opt not to travel by taxi or tuk tuk. We walked on narrow sidewalks along streets choked with cars that spewed smoky exhaust and dodged vehicles fighting to make their way through heavy traffic. We abandoned Bamrung Muang Road after one block and fled to a side street. Although this street was just as busy, idling traffic dampened the noise level.
I enjoyed browsing shops that catered to local tastes. One shop sold fans galore, another oversized Buddhist icons that reminded me for some reason of FAO Schwarz, and another was crammed wall to wall with old compressor components, dirty rags, and newspapers. I was surprised that anyone could navigate through a place so jam packed with stuff.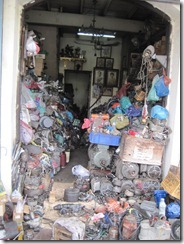 Banglamphu looked as if it had seen better days and had deteriorated into one of the poorer areas of inner city Bangkok. However, it was not a slum by any means.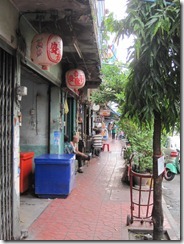 For those adventurous enough to get lost in its labyrinthine streets, one can find some hidden gems, such as antique furniture stores and artisanal shops, lurking in the shadow of some of the city's most popular attractions. The neighborhood is definitely worth a visit.