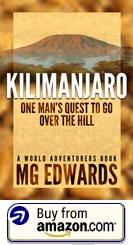 The porters of Kilimanjaro are featured in my book Kilimanjaro: One Man's Quest to Go Over the Hill, which chronicles my attempt to summit Mount Kilimanjaro, the highest mountain in Africa. The book is on sale now as an e-book for $3.99 and in paperback for $9.99 from Amazon and other booksellers.
They are the unsung heroes of any mountain climb — the guides, porters, and cooks who help climbers reach the summit and get back safely. The workers who serve on Mount Kilimanjaro are brave and dedicated souls who work for low pay and risk their lives to assist climbers in their quest to realize their dreams.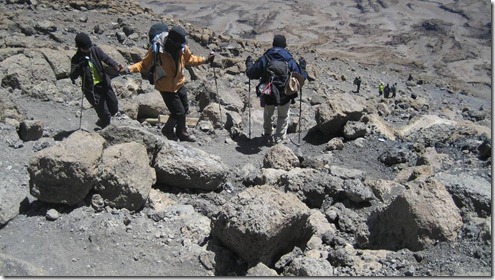 Guides, porters, and cooks have helped thousands of people climb Kilimanjaro since the mountain was first summited in 1889. That team, led German professor Hans Meyer and Austrian mountaineer Ludwig Purtscheller, included a local guide, nine porters, and a cook.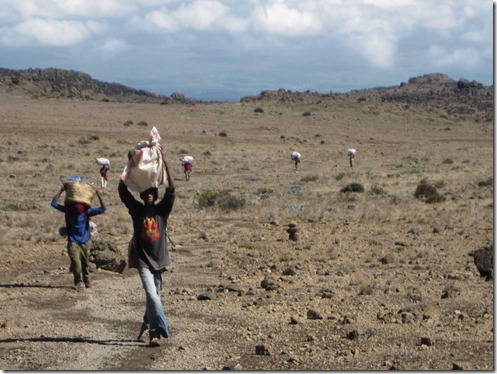 Although climbers are responsible for getting themselves to the summit, their support team carries most of the gear and equipment they need to do the climb. Each porter and cook carries up to 15 kilograms (33 pounds), a heavy burden to bear for days and hours on end, again and again, up and down, in any kind of weather, over different kinds of terrain.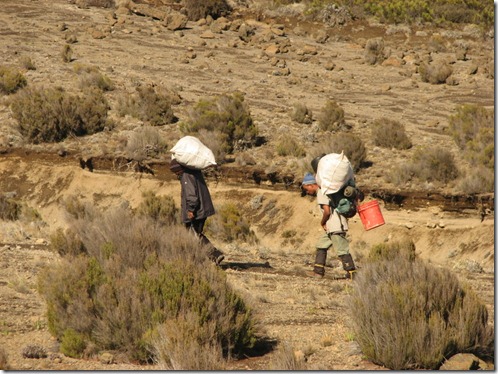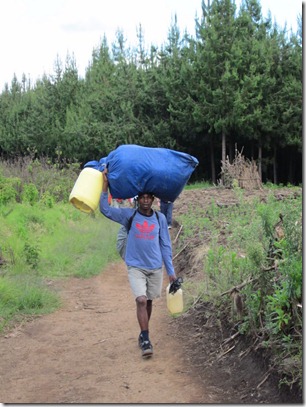 Cooks carry all the food and equipment needed to prepare meals.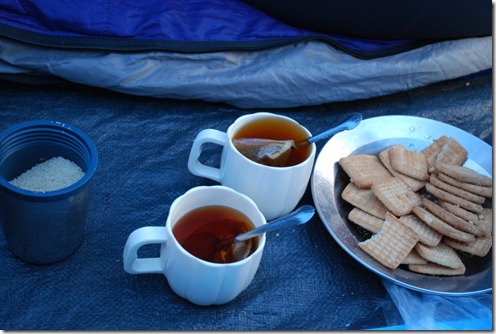 Porters haul climbers who need to be evacuated from Kilimanjaro down in a mobile stretcher — something that looks like a wheel barrow.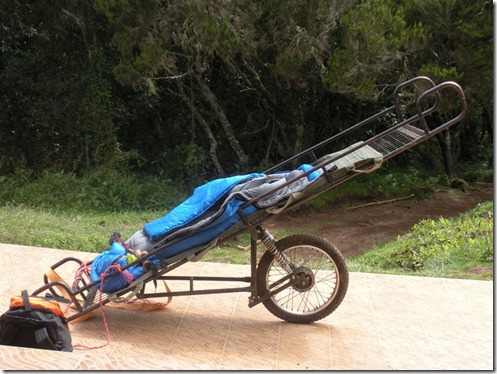 Workers arrive at camps ahead of time and set up campsites so they're ready when the climbers arrive. For every climber on the mountain, there may be three or more assistants helping them.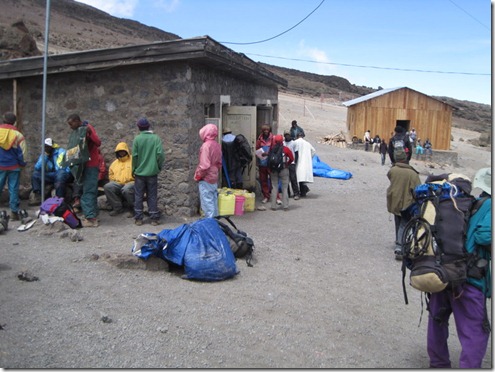 Although working conditions on Kilimanjaro can be difficult, most guides, porters, and cooks are passionate about their jobs and take pride in being a member of an elite group. Many start out as porters or cooks and become guides after graduating from mountaineering school. Park management hires some graduates as park rangers. A few go on to start their own tour companies.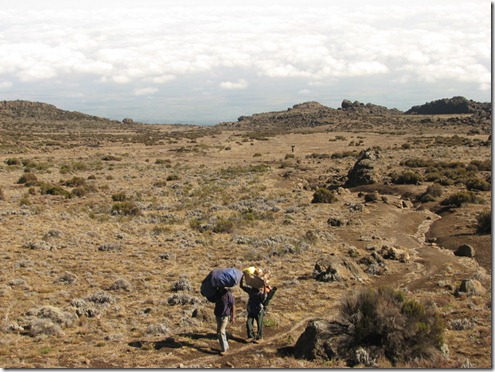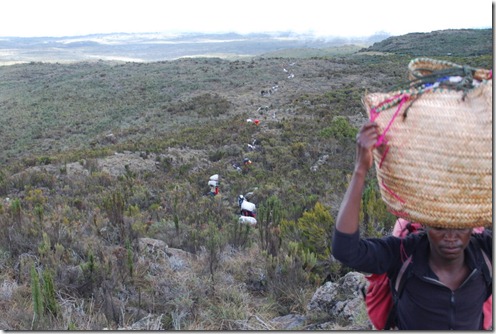 Workers who don't earn much money often make do with whatever clothing or equipment they can afford or hand-me-downs donated by climbers. In some cases, their wardrobe may consist of tattered shirts, light jackets, worn pants, loafers or tennis shoes with inadequate soles. Underdressed workers often race up the mountain and pass climbers with expensive clothing and gear.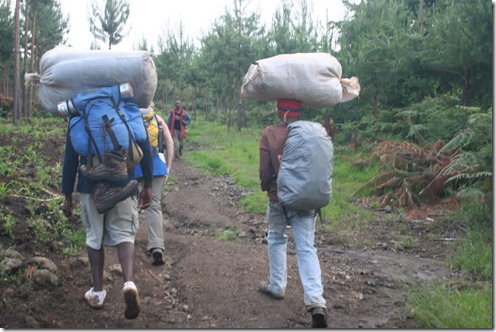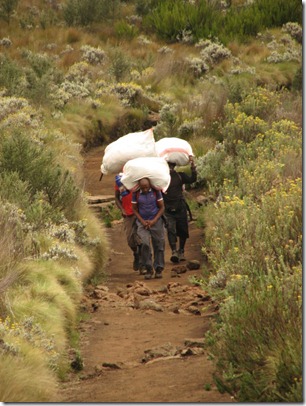 If you hire an outfitter or guide to help you climb Mount Kilimanjaro, please consider these suggestions when you're on the mountain.
Meet your team. Get to know the guides, porters, and cooks who help you fulfill your dream. Tanzanians are generally friendly and helpful. They go to lengths to help those they care about, including their clients. Learning a few phrases in Swahili, the local language, will go a long way to building rapport with your team. They will remember you as the foreigner who spoke their language.
Pay decent tips. Many members of the support team earn very little on a climb. The pay is small but more lucrative than most jobs on the local economy since the guides and porters earn additional money from tips. Giving them a decent tip is the right thing to do. They work hard for you. There's no set rule for the amount, but a decent tip is reportedly 15 percent of the fee you paid your guide shared among all members of the team.
Donate extra gear. You may not need some of your clothing and equipment after you finish your climb. Many climbers donate extra gear to the team. It's a personal decision whether to give away your belongings, but your team will appreciate it. You can make a donation to any of the many porter support groups that help workers by giving away used gear in good condition. Many are online.
Treat workers with respect. The workers on Kilimanjaro work for you and other climbers. They are dedicated professionals and deserve your respect.
I appreciate what my team did for me on my climb. There was no way I could have focused on climbing Kilimanjaro if I had to what they did for me. I'm grateful that they carried my heavy bags, set up and took down my tent every day, cooked and served me food, and made sure I survived.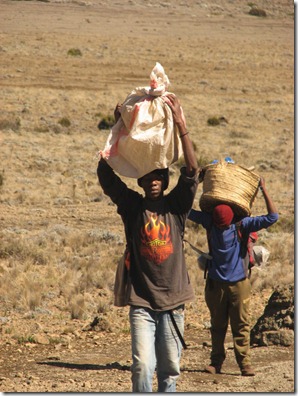 The workers on Kilimanjaro are heroes behind the scenes who deserve credit and respect for doing the difficult job of helping climbers reach a place that would otherwise be uninhabited by humans.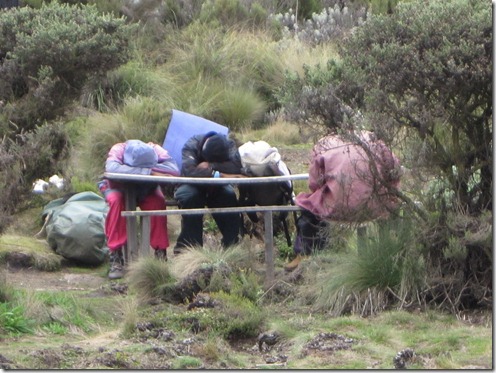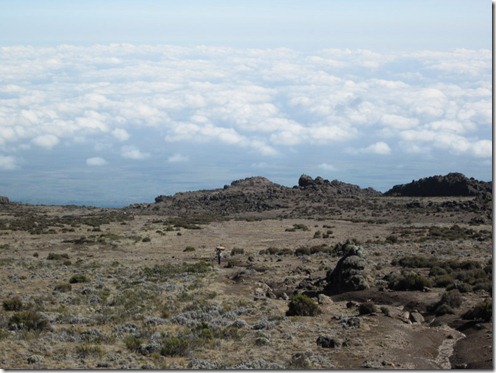 More About Tanzania and Kilimanjaro
Click on the icons below for more articles about Tanzania and Kilimanjaro
[table]
[/table]