In honor of the Carnival and Mardi Gras festivals coming soon, here is a video clip from the February 2008 Carnival celebration in Encarnación, Paraguay. If you're in Paraguay and can't attend the world-famous Carnival in Rio de Janeiro, Brazil, don't miss its smaller sibling in Encarnación. I think it holds its own as one of the world's great Carnivals and adds a uniquely Paraguayan flavor to this annual event.
A colorful festival of music and dancing, Carnival is known for its wild, crazy, and sometimes risqué atmosphere. This parade in the Carnival capital of Paraguay was festive and revealing but decidedly tame compared to its reputation. Female and male performers in colorful outfits festooned with feathers and glitter like shimmering peacocks dance to lively chamame polka-style music along a long runway. It's quite the sight to behold. This video is just a glimpse of what to expect in person. You have to see it for yourself.
[embedyt]http://www.youtube.com/watch?v=-pQ6RYejJqg&list=UUPEwRY8SkpE70BrPUeBdJAQ[/embedyt]
Encarnación is located in southeastern Paraguay on the banks of the Paraná River, across from Posadas, Argentina. Paraguay's third-largest city has a population of about 100,000, and is located just half an hour from one of the country's most popular tourist attractions, the Jesuit ruins at Trinidad.
Warning:  If you attend Carnival in Encarnación, be prepared to get soaking wet. It's a participatory event where the spectators douse one another with shaving cream. Leave your aquaphobia and valuables at home and arm yourself with cans of shaving cream to defend yourself from the onslaught. Bring a Carnival mask and join in the fun!
World Adventurers YouTube Channel
Why not subscribe to the World Adventurers Channel on YouTube? I have been posting video clips of great destinations and fun travel moments from elephant polo in Thailand to Iguazu Falls in Argentina and Brazil, and much more. Stay tuned for more great travel videos.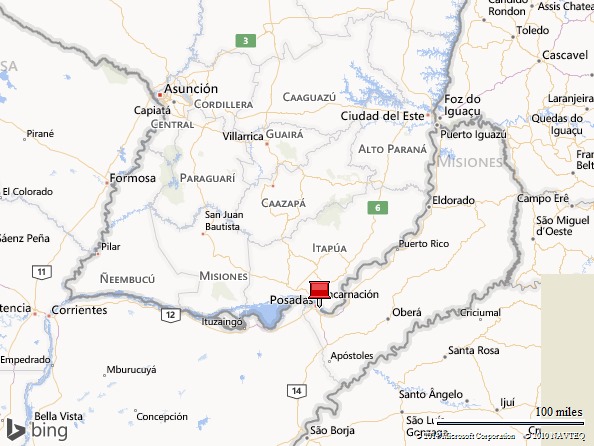 More About Paraguay
Click on the icon below for more articles about Paraguay