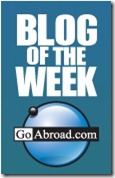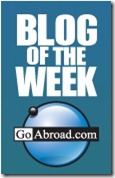 Thank you, GoAbroad, for featuring World Adventurers as your Blog of the Week! It's an honor to be recognized by a leading international education and experiential travel resource.
Thanks to everyone stopping by to visit my blog. You're most welcome. There are many posts on travel and other topics for your reading enjoyment listed in the Category Cloud and Top Ten List below. Enjoy browsing!
GoAbroad writes in its Blog of the Week feature:
World Adventurers
The official blog of published author, Michael (M.G.) Edwards, World Adventurers was started in 2004 when Michael moved abroad with his family to serve as a diplomat in U.S. missions overseas. With more than 850 posts, 300,000 hits, and features on WordPress' "Freshly Pressed," World Adventurers is a dynamic travel blog with a large following. The content on World Adventurers lends itself to those interested in adventure travel, with resources that range from Michael's own travel tips to lists of top things to see and do in a variety of countries.
Why We Love It
Michael's background and degrees in international studies, political science, history, German, and a master's degree in China Studies makes it more than apparent that World Adventurers is written by an author with extensive international experience. This is supplemented all the more by Michael's past career as a diplomat with the U.S. Department of State, which included assignments such as: working as a consular officer at the U.S. Embassy in Seoul, Korea, and as a political officer at the U.S. Embassy in Asunción, Paraguay, where he focused on political-military affairs and human rights.
What makes World Adventurers unique is the way every post tells a story. The latest blog post, for example – Top Ten Things to Savor in Macau – is depicted with photos and a travelogue, keeping readers interested as well as informed. The photos are rich in detail and give a deeper glimpse into the experiences shared on World Adventurers.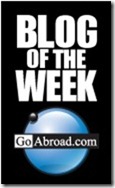 Be sure to check out the blog for more updates on World Adventurers, and explore GoAbroad.com for thousands of adventure travel opportunities!
Thank you very much, GoAbroad!