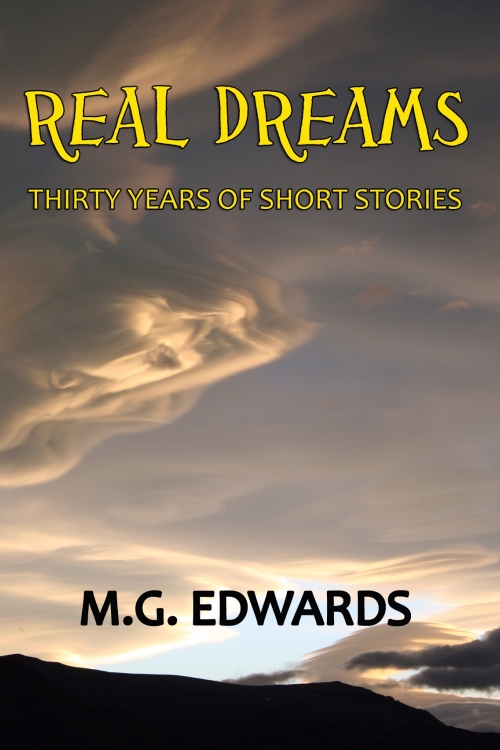 A French prisoner struggles to survive in a Nazi concentration camp during World War II. A delinquent youth is obsessed with a cemetery ghost. Good and evil fight over the soul of a zombie. A grandmother thought to suffer from mental illness predicts the future. Car trouble leads to an encounter with an angel. A chief must calm a volcano before it destroys his village. A human tries to dissuade elves and dwarves from going to war. A bride confronts deception in an effort to reunite with her bridegroom. A boy encounters superhuman army ants that escape from a military laboratory and move into his bedroom closet.
These stories and more are featured in Real Dreams: Thirty Years of Short Stories, a collection of 15 short stories I wrote between 1981 and 2011.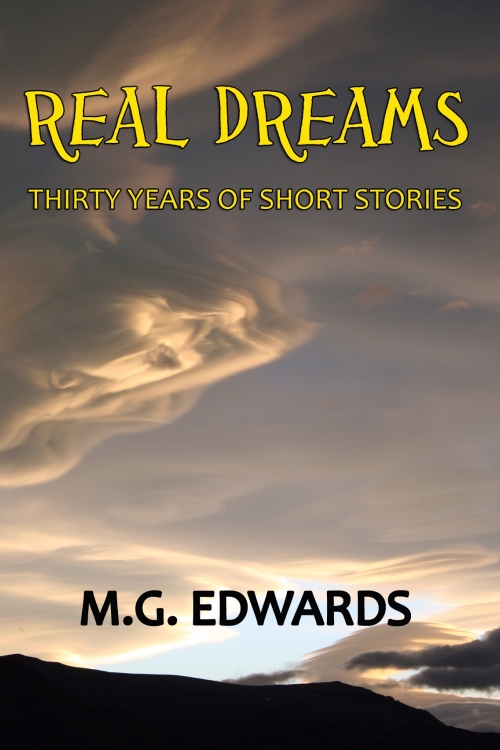 Each story reflects changes in my writing style and interests over time. I wrote the earliest story, How Little Big Chief Calmed the Mountain, in 1981 at the age of ten, and the latest, Evil | Live, thirty years later. The stories are grouped by genre to help the reader identify each style. They feature some common themes, including hope, dreams, light, darkness, perseverance, and spirituality, wrapped up in some novel ideas. Enjoy these diverse and timeless works three decades in the making.
Story Synopses
Vichy (1990) tells the story of Jean-Marie Daubert, a spy for the French Resistance during World War II who was captured and sent to Gross-Rosen concentration camp in Poland (then Silesia). It's a sobering story of love and loss told through letters from Daubert to his wife Corinne.
The Ballick Eye (1988) is a ghost story about a delinquent youth sent by his parents to live with an aunt who is determined to straighten him out. Can a cemetery ghost turn his life around?
Evil | Live (2011) is a twist on the traditional horror story. Good and evil engage in an epic struggle for the soul of a zombie.
The Grandma Conspiracy (2004) tells the story of an elderly woman with the ability to predict the future whose family believes she suffers from mental illness. The story is narrated by one of her grandchildren who struggles to help her.
Room G-13 (1993) is a horror story with a twist. Strange sounds emanate from the maintenance man's room at a college dormitory, leading one student to investigate what's really going happening there.
The Factory Worker in the Corner Office (2007) is an allegory about a white-collar worker who deals with a difficult boss.
Saved by Hope (1988) is a true story based on an encounter I had with an angel during the summer of 1987.
Mysterius, Lord of the Unknown (1987) tells the tale of the Greek god of the unknown. The ancient Greeks dedicated some temple altars to an unknown god. Mysterius is an interpretation of this deity.
How Little Big Chief Calmed the Mountain (1981) is an allegory inspired by the May 1981 eruption of Mt. St. Helens. A village leader must appease an angry volcano before it erupts and destroys his village.
The Emissary's Battle (2005) is a story set in a fantasy world. A human envoy must use diplomacy to diffuse a conflict between elves and dwarves before it leads to war.
Kirche and the Mirror (1992) is a religious allegory. On the day her bridegroom returns, the bride must confront deception and illusions before reuniting with him.
Suits (1989) is a science fiction short with an ironic twist. A child dreams of an alien invasion.
Verda (1997) ponders the existence of a second moon orbiting Earth capable of sustaining life and humanity's efforts to colonize it. The story explores themes ranging from space exploration to environmental preservation.
G.I. Ants (1983) is a story about a boy's encounter with a group of superhuman army ants who escape from a military laboratory and move into his closet.
High Flying Deutschman (1988) tells the story of a German exchange student's quest to learn baseball and join a championship high school team.
Real Dreams is available in e-book format for only $2.99 (or equivalent in local currencies) at:
Real Dreams is available in print for just $8.99 (or equivalent in local currencies) at:
More About Real Dreams
More About Real Dreams
Click on the icons below to purchase Real Dreams
[table]
[/table]