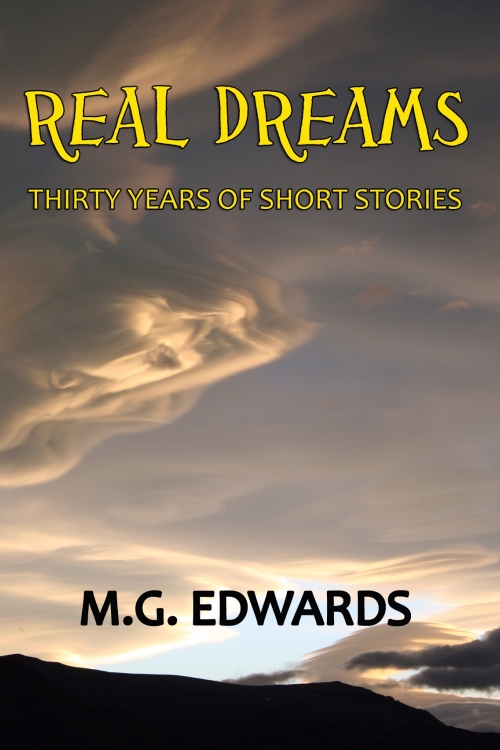 Here's what readers are saying about Real Dreams: Thirty Years of Short Stories:
"Interesting Read" – 4 Stars – June 29, 2012
By Michael Kaizar
A collection of fifteen stories demonstrating the authors ability to work in multiple genres. The stories include non-fiction, science fiction, horror, and religion. I really enjoyed this book and found each story interesting and well written. Generally, each story was short enough to finish in one sitting.
"Best for Last" – 4 Stars – March 15, 2012
By Winleigh
This author definitely saved the best stories for last. The last two stories could easily be expanded into a Novel. There were a few along the way I would have edited out, but that may just be my taste. I look forward to reading more from this author.
"Eclectic Variety at its Best" – 5 Stars – January 16, 2012
By Blaise Hanagan
M.G. Edwards has given his readers a plethura of varied and interesting stories, 15 in all, from which to be entertained. And though the point of view and genre differ from story to story, all are well written, thoughtfully constructed and most of all captivating. Plus which, having a variety of subject matter from which to choose, rather than they're all being of the same subject, at least for me, makes it all the more enjoyable as with each story,there is a new and unexpected surprise. If you're either a fan of short stories, or if you simply like a good read, then I would highly recommend you purchase this book.
"Eclectic But Lots of Fun" – 4 Stars – January 2, 2012
By Nathan Pennington
The stories in Real Dreams are lots of fun to read and quite a few really make you think too. Things I loved about it: 1) The variety. The stories are from all different genres. 2) The writing style. Mr. Edwards has a more narrative-heavy style of writing, but he does it really well. (Think The Sword of Shannara by Terry Brooks) 3) The twists. There are some cool twists and turns pulled in the stories. Good setup, and then the surprise ending. Well done. The one thing I didn't like as much was the variety. I know I listed that above as a good thing. It is, provided you know that going in. Then it's ok. It is truly an eclectic collection. Lastly, you can't beat the price (10 cents per story)! I would recommend this book, and I hope the author takes some of the stories and expands them into novels. Especially Verda (my favorite story).