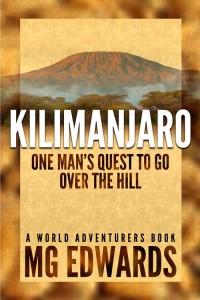 What Readers are Saying About Kilimanjaro: One Man's Quest to Go Over the Hill
Must Read Whether You are a Hiker or Not – 5 Stars – October 2, 2014
By Aaron Arsenault
I am 38 years old and not a person that reads a lot of books but I do hike quite a bit and my dream hike is Kilimanjaro. I came across this book while doing a little research on the mountain. This book is amazing, and inspiring, and since reading it I want to hike Kili all that much more. The trials and tribulations that the group goes through both physically and mentally are something that I would expect on a mountain like this but reading it you can picture the steps and feel what they are going through. I myself am at this crossroad in life and to see that someone can attempt and conquer this mountain and not be this elite climber really makes that fire burn for me. Whether you are a hiker or not this is an amazing story that will inspire you to chase after that dream.
CAUTION: Do not read this book unless you want to be entertained and inspired! – 5 Stars – March 17, 2014
By Jim Yarbrough
I've often dreamed of climbing Kilimanjaro. You too? This is a great place to start – if only to nurture your dream.
I had been told that it was a non-technical climb and although you may succumb to altitude sickness that no climbing expertise was necessary. Wanting to make the climb with my two sons before I was 'over the hill' I eagerly picked-up M.G. Edward's book. I found it educational, thrilling, and inspiring. The author confessed that his intention in climbing was to surmount a 'mid-life crisis'. His eloquent retelling of his journey admitted that it became the doorway to 'expanded-life opportunities'.
My initial interest in reading Mike's account had been focused on the 'how-to' aspects of preparation and execution. These interests were satisfied as he described his training, selection of an outfitter, operator, and guide and recounted every aspect of his climb. Thankfully the author includes a detailed list of recommendations relevant maps, a glossary of terms, and even a helpful list of basic Swahili language phrases.
What I also found was an insightful, articulate, and emotionally charged recounting of his life-expanding experience. The author was not an athlete, avid trekker, or even a part-time adventure seeker. Either was he unaware of the physical and psychological challenges promised by the climb. Mike was determined to carryout the journey with courage and resolve. He did – not without challenges.
The author's eloquent retelling of the driving rain, soaked sleeping gear and clothes, and bitter cold emotionally describes how these tested but did not deter his efforts as his forced will pushed him forward, one step at a time. Two days before the assault on the summit Mike confessed, "I organized this climb on the crazy belief that it would kick-start my life. Instead, it kicked my butt." This is a must read to find out what happened next.
In his 'Final Thoughts' the author encouraged readers to understand, appreciate, and make the climb – the greatest challenge he had ever faced – one that prepared him for life's other potential challenges.
I highly recommend 'Kilimanjaro. It is a well-told story of resolve, resilience, and resurrection.
Getting Over the Hill – 4 Stars – May 9, 2013
By Tai Pan
A well written guide for anyone considering climbing Kilimanjaro (or facing a mid-life crisis!). The author has a gift for turning a phrase, and I found his description of his attempt at the mountain's summit particularly compelling. He also thoughtfully includes a very helpful guide to Kilimanjaro-related resources and a detailed gear list for planning one's own trip to the Roof of Africa. A quick and enjoyable read.
Kilimanjaro – 5 Stars – March 12, 2013
By M.E. Shapland
Really enjoyed this book i felt i was climbing it as well .Very well written it shows what strength you can find to achieve what you think is impossible.
I Could Relate – 4 Stars – February 18, 2013
By James DeLillo
It was as if I were living it in his shoes. A very descriptive and emotional story without being overly sentimental.
An Inspiring Analogy for Personal Change – 4 Stars – January 19, 2013
By August McLaughlin
As MG Edwards departs the confines of his usual life in seek of something more, his hike up Africa's tallest mountain becomes an analogy for personal change. While he delves almost exclusively into his own thoughts and experiences and relates little to the mountain or guides, the real story is in shifting the direction of his life. He contemplates leaving his job in the U.S. Foreign Service State Department to pursue the craft of writing, relaying valuable insight and lessons.
I felt that some of the thoughts and ideas were retold unnecessarily, and that some of the sentences could have been more concise. That said, Edwards is a skilled storyteller, and KILIMANJARO seems an ideal story for anyone contemplating major life decisions. The detailed information guide at the end and gorgeous photographs throughout add to the book's enjoyment and usefulness, making it well worth the purchase price. I look forward to learning more of Edwards' adventures as he journeys on!
A Superbly Written Book that Can Change Your Stars – 5 Stars – December 9, 2012
By David C. Cassidy
When I began reading Kilimanjaro: One Man's Quest To Go Over The Hill, I quickly realized two things. First, M. G. Edwards is a superbly talented writer. Second, anything is possible.
This inspirational true story chronicles the day-by-day hiking trek to the summit of Kilimanjaro, Africa's highest mountain. Fascinating by itself, the real story is the courage and fortitude of the author as he summons the will to confront not only the perils of the mountain, but a far more dangerous demon: a burning mid-life crisis.
At forty years of age, out of shape, and struggling with an unsatisfying and demoralizing career, Michael Edwards knew that something had to give. Life had to change. For many people, such frustration and fear is all too real and paralyzing. Better the demon we know, no matter how unhappy and unfulfilled we are.
Virtually overnight–well, several nights–Michael Edwards changed his stars. Tackling something as monstrous as a mountain, he overcame adversity, cold, heat, searing aches and pains, channeling all of these victories toward a single goal: to prove to himself that from this point forward, nothing could stand in his way. Not a mountain, not an unhappy life.
Read this book. Change your stars. It's that good.
Parts of the Book Were Grippng – 4 Stars – November 27, 2012
By jewel-light
I bought this book because I know the author and it is always fun reading books written by people I know. Once I started reading the book I could not put it down – I wanted to find out if he made it to the summit. Finding about his reasons for climbing the mountain and preparing for it was somewhat interesting but the trek itself was gripping. Would he? Could he? I did not know and I wanted to find out. Having read this book do I want to climb Africa's highest mountain? No! However I would recommend to family or friends who wanted to go on this incredible adventure to read this book so that they might be prepared to take their "quest over the hill."
Exciting and Uplifting Read – 5 Stars – September 27, 2012
By Marci
I love when M.G. Edwards, thru his writings, makes me feel like I am right there with him during the preparations and the climb. His colorful use of words throughout the book brought this non-fiction journey right to me. I love that feeling. I enjoyed the many personal goals he shared on this climb, showing how to work towards them. Equally enjoyable for me is his take on how he and his teammates worked together and managed their own personal goals and struggles during the adventure. I highly recommend this book.
Over the Top – 5 Stars – September 23, 2012
By Judith Lambert
A friend referred me to this book. Even though I don't normally read inspirational nonfiction, I gave it a try. Diving in, I found treasure in an easy to read storyline I could sympathize with. The author tackles Kilimanjaro against personal odds and his sometimes painstaking travails humble your own perspective. This book is for anyone who has a proverbial mountain to climb; and that's most of us. It's not just a trekker's guide or resource book. So if you're yearning to see how others conquer their mountains, this book is for you. Dare to become inspired, even if you've never trekked or ever plan to. It's that good; I love and recommend this work giving it 5 stars.
Conquering Your Own Kilimanjaro – 5 Stars – July 12, 2012
By Lada Ray
This book is about many things. At forty, the author, M.G. Edwards, finds himself at a crossroads. Leaving behind the unfulfilling job as part of the American Foreign Service, he embarks on a grueling, excruciating, and at times scary, journey to the top of Africa, the famous Mt. Kilimanjaro.
Sound familiar? How many of us have gone through the same thing at some point in our lives? How many left an unfulfilling job behind, packed a backpack or a suitcase and embarked on a far away journey to look for answers? Only to discover that all of our answers lie within.
I was interested to follow the author's journey to the top and the challenges he encountered along the way. But I was especially curious to read about the dynamics of his little group's interactions with the crew of local guides, cooks and helpers, whose job was to carry the tourists' supplies and tents up the mountain. For me, that put in striking perspective the harsh realities of local inhabitants compared to the "wealthy" Westerners dropping in for a brief visit.
The book includes a large number of photos, documenting the entire trip. I am very visual and in my opinion, the journey came alive through these photos. This was one of the best features of the book and I have to commend the author for including them. The book is a rather quick and easy read. In the second edition, I didn't notice any errors mentioned in one of the previous reviews.
If you are considering a trip to Kilimanjaro, the author does an excellent job of providing guidance and tons of useful information regarding such mundane, but unavoidable, subjects as fees, procedures, hiring and interacting with guides/helpers, as well as local conditions. The addendum provides a number of other useful tips and local information, invaluable for future climbers.
This is the first book in M.G. Edwards' World Adventurers Series. I am looking forward to reading about the author's various other world adventures!
A Very Inspiring and Good Read – 4 Stars – June 14, 2012
By David Holtzclaw
"Kilimanjaro," was a very inspiring & good read! I received it as a gift through the First Reads promotion by Goodreads, & truly appreciate the book as well as getting to know about new authors! Mike's story hit home in a lot of ways, & continued to have me pulling for him on his way to the summit.I think anyone would enjoy his story, whether being an "outdoor" type, or regular city folk. Kudos to Mike for his stamina & decisions made!
A Private Peek into Someone's Personal Travel Journal – 4 Stars – May 8, 2012
By Lori M. / Readers Favorite Review
My husband teases that he lives vicariously through me because like author M.G. Edwards, I was on the verge of a midlife crisis in my 40's and yearned for adventure, trekking off to Kenya, Russia, and dozens of other places. "Kilimanjaro: One Man's Quest to Go Over the Hill" is a tale of Edwards who, at 40, Decides he wants to climb Mount Kilimanjaro. His wife had already accomplished this great feat and he wanted to conquer it as well. His adventures read like a private peek into someone's personal travel journal and it felt good to be inside of his head as well as read the chronicles of what went on at each step. I thoroughly enjoyed the numerous photos that were included in the book depicting many of the major steps throughout the climb, of his team of climbers, and of his family. The photos helped me relate more closely with the author.
I can certainly relate to Edwards's trepidation about his ability to complete the climb when he was experiencing heart palpitations and was generally under-the-weather just prior to the climb. But he plunged ahead and found the encouragement and confidence he needed to make the journey and the climb. As he reports, it wasn't easy, but it was an adventure that changed his thoughts on life. At the end of the book, Edwards provides tips for others who are considering climbing Mount Kilimanjaro as well as a glossary of relevant climbing terms and a list of gear that a climber might want to bring along.
Mid Life Madness – 5 Stars – May 6, 2012
By Misti DeBonno
Kilimanjaro is exactly what this book is about. Yet what makes it so appealing is that it is not the story of a seasoned mountaineer or an athlete but someone's husband and father. The realities of facing such a climb when maybe you are not quite at your peak and are facing the demons of a mid-life crisis draw you into his battle for a more ful-filling life. Shockingly as it progresses you begin to unravel your own insecurites and indeed climb the mountain, or goal with him. The mountain became a tempestuous demon taunting him with its obvious power yet encouraging with its unique beauty and inner reward for each milestone that was surpassed. His descriptions bring it to life and leave you enjoying an intimate picture of this life-challenging mountain that peaks at 19,340 feet! To sum it up, I would simply say… Read this book and it will change your life, just like it has for MG Edwards!
An Epic Journey of Self-Discovery – 5 Stars – May 6, 2012
By Misti DeBonno
Kilimanjaro takes you on an epic journey of self-discovery as you enjoy one man's battle with both a mid-life crisis and the penultimate challenge of a mountain that peaks at 19,340 feet and destroys many a person along its path. The mountain is brought to life with great descriptions of its beauty, charm and also that of its perilous threat. Yet surprisingly his quest ignites the desire for a more rewarding life that is within us all, though sometimes buried. It is a gem of a book, that urges you alongs its peaks and troughs and is guaranteed to leave you with a thirst for pastures new…
M.G. Edwards' Book Changed My Life – 5 Stars – May 4, 2012
By TD Robison
M.G. Edwards' Kilimanjaro: One Man's Quest to Go Over the Hill represents as much of an extraordinary personal journey as it is a physical challenge.
Forty years old and on the verge of midlife crisis, the author is at a crossroad – continue in an unfulfilling career as an American Diplomat or follow his heart's true desire since childhood of becoming a writer. One choice brings admiration, glamor, security, but also dissatisfaction; the other is tentative at best. He writes:
"The future weighed on my mind. Approaching middle age, I was overweight and out of shape, living a sedentary lifestyle, and stuck in a rut. A series of personal setbacks left me a bitter man. Every time I was convinced life would get better, another letdown hit me. A midlife crisis, something that just a few years ago I never thought possible, was brewing."
He lifts his eyes toward Mt. Kilimanjaro at 19,341 feet above sea level, the catalyst to finding the answer. Refusing to allow a barrage of misgivings, doubts, and severe ailments diminish his resolve to attempt the climb, he sets out with three friends to tackle Africa's highest peak.
His words capture the magnificent beauty of nature, while candid revelations let you glimpse into the epicenter of personal conflict. "The barren wasteland reminded me how close we were to touching the heavens yet still bound to earth like ants on a giant mound." He lets you see, "the heavens opened up to reveal the summit of Kibo Peak" that reached "for the sky yet seemed close to the touch, and it beckoned me to head for the summit, a temptation that instilled me with a false confidence." You'll experience life at camp, shivering inside a tent from unendurable chill and relentless downpours, and gaze upon a "crescent moon and an array of stars blossomed in the night sky and illuminated the landscape with twinkles of light dancing on the thick layer of frost that covered every surface."
M.G. Edwards' book will inspire not only those who dream of such an adventure, but anyone who faces their own inner Kilimanjaro.
I hope to have whetted your appetite, for this brilliant book will offer an adventure unlike any other that you will relish. Enjoy!
T. Donna Robison
Author
No Kiss Good-bye (coming 2012)
Couldn't put it down – 5 Stars – April 25, 2012
By Uncle Phil
I admit I bought this book because the author is a friend.
I started reading it because that's what friends do.
I couldn't put it down because it is a well written story about a real person's adventure, triumphs, fears, challenges and success. It's not about a superhero but a person like me going on the type of adventures I like to go on. I take that back. He is my hero.
Surprisingly Inspirational – 5 Stars – April 5, 2012
By Blaise Hanagan
As the previous reviewer had already commented. A book written on this topic would not be something I'd have chosen, since I'm neither a climber, have no interest in athletics, nor am I someone who would normally physically challenge myself in this way. That said, I read it for no other reason then I was already somewhat familar with this writer's work, having previously read his collection of short stories which I'd enjoyed considerably.
And what I found to my astonishment, was a book that was not only exceptionally well written, holding the readers rapt attention from first page to last. But it's also a book that gives you a glimpse into the writers inner conflicts, as he grapples with his career, along with the life changing decisions for himself and his family, that go along with it.
Every step along the way he challenges his physical endurance and stamina, as much so as stretching the mental alertness and dicipline needed in the quest to achieve the goal he'd set out for himself. Ultimately reaching his goal no matter how lofty even when it seemed unattainable.
This book and M.G. Edwards achievement,should serve as a lesson to us all. Even goals that may initially seem beyond our reach, often are more within our grasp then we realize.
Great Book. Definitely Recommended – 5 Stars – April 3, 2012
By Nathan Pennington
I'll be honest. When I started this, it was half-hearted. A book about climbing a mountain, I thought, could it be any more boring?
Well, I was wrong. I started it expecting a somewhat dry read . . . but I finished it over a weekend turning page after page wanting to know what would happen next.
What can go wrong going up a mountain? A lot more than I realized, and furthermore, this climb meant more to the author than just a little exercise; it came down to who he really was and would become.
It's a great read, and the intregue is there. Highly recommended.
P.S. The pictures were like the icing on the cake. Excellent!
Pick up your copy of Kilimanjaro:  One Man's Quest to Go Over the Hill today!